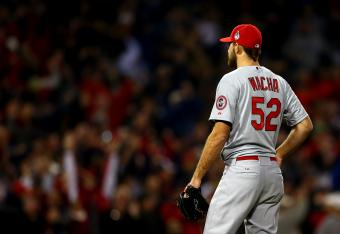 The Cardinals organization stands alone in terms of scouting and developing players.
Elsa/Getty Images
It's rare for an organization to be blessed with a seemingly endless supply of internal talent—unless you're the St. Louis Cardinals, that is.
Over the last decade, the Cardinals have become the model organization within Major League Baseball, funneling countless players to the majors every year thanks to scouting and player developments that each rank as the best in the game.
This past season, the team used 12 different rookie pitchers during the regular season, the group collectively posting a 36-22 record with a 3.17 ERA, 8.79 K/9 and 2.99 BB/9 over 553.2 innings.
The Cardinals opened even more eyes in the postseason when they captured the National League Championship with a starting rotation and bullpen comprised of young (and mostly rookie) arms, including Carlos Martinez, Trevor Rosenthal and Michael Wacha.