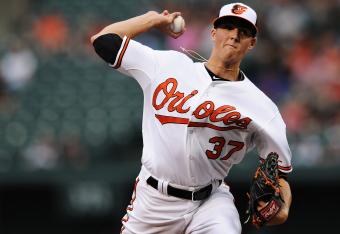 Patrick Smith/Getty Images
Though Baltimore's system is thin on positional talent, its decision to draft high-ceiling pitching prospects in the first round in each of the last three years could produce one of the best homegrown, major league rotations by late 2016.
After climbing from Low-A to the major leagues during his 2012 professional debut, Dylan Bundy's promising career hit a bump in the road last season when an elbow injury forced the right-hander to undergo season-ending Tommy John surgery in May. Though he likely was ticketed for the minor leagues to open the 2013 season, Bundy was expected to emerge as a staple in the team's starting rotation by the All-Star break (if not earlier).
Depending on when he returns to the mound in 2014, the 21-year-old could conceivably reach the major leagues by season's end. However, all expectations regarding his performance need to be tempered, as is the case with any young arm coming back from elbow surgery.
Because Bundy hasn't thrown a pitch professionally in over a year, right-hander Kevin Gausman, the No. 4 overall pick in the 2012 draft, ranks as the organization's top prospect for the upcoming season. Rushed to the major leagues early last season, Gausman struggled as a member of the starting rotation before settling into a bullpen role in September.