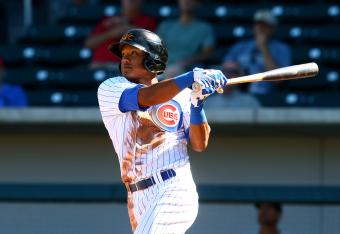 USA TODAY Sports
The Chicago Cubs' future was on display late last summer with franchise cornerstones Anthony Rizzo and Starlin Castro playing on the same field as highly regarded prospects such as Javier Baez, Jorge Soler and Arismendy Alcantara.
Suffice it to say, the future is bright on the North Side of Chicago.
After stocking the Cubs farm system with top-flight hitters for almost three years, club president Theo Epstein and general manager Jed Hoyer seem poised to make a splash this season on the open market with possible pursuits of free-agent pitchers such as Jon Lester and Max Scherzer to headline the starting rotation for years to come.
Unfortunately for the Cubs, the lack of available impact starters in this year's free-agent class means other teams will also be targeting the aforementioned aces. If that's the case, then we might finally see the Cubs tap into their wealth of talent on the farm and trade for a comparable pitcher.