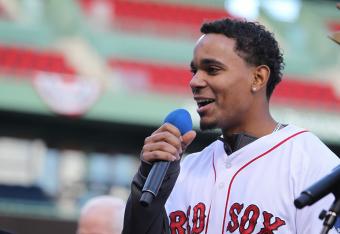 Gail Oskin/Getty Images
In 2012, Boston's dismal season and last-place finish in the American League East obscured the enormous progress made by their top prospects down on the farm.
Last season, though, everything clicked for the organization from top to bottom.
After acquiring John Farrell to replace Bobby Valentine as the team's manager and adding a few key players to complement their already strong core of veterans, the Red Sox opened the season on a tear and never looked back. The club went on to win the AL East with 97 wins before ultimately defeating the St. Louis Cardinals to claim its third World Series title in the last decade.
Many of the prospects that took a step forward in 2012 played a role in the team's overwhelming success last season, as the Red Sox received contributions from top-ranked prospects such as infielder Xander Bogaerts, outfielder Jackie Bradley and right-handers Allen Webster and Brandon Workman. Amazingly, all four players have rookie eligibility for the 2014 season.