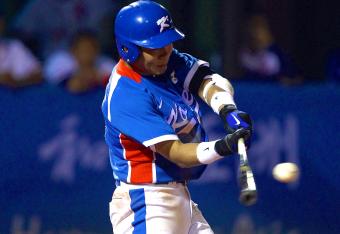 Getty Images
Add Korean shortstop Jung-ho Kang to the list of international free agents hoping to make the jump to the major leagues in 2015.
The 27-year-old Kang is expected to be posted this offseason by the Nexen Heroes of the Korean Baseball Organization, though Ken Rosenthal of Fox Sports hears it's unlikely to happen until after the winter meetings (Dec. 7 through 11).
Regardless, Kang, who batted .356/.459/.739 with a career-high 40 home runs in 117 games for Nexen this past season, will soon become one of the more sought after free agents in a class that's thin on impact hitters, let alone ones with legitimate power from a middle-infield position.
Kang was drafted by the Hyundai Unicorns in the second round of the 2006 KBO draft and made his professional debut later that year. However, the 19-year-old's playing time was limited, as he served primarily as a defensive replacement and appeared in only 10 games, and he didn't help his cause by going 3-for-20 at the plate.