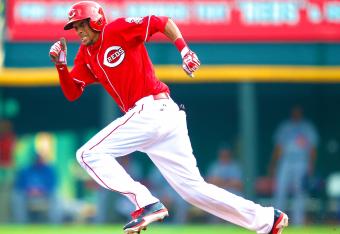 It's been just more than a week since the first wave of September call-ups arrived in the major leagues, and more will continue to arrive in the coming weeks.
So far, Billy Hamilton has stolen the show with his base-stealing prowess. The 22-year-old speedster has appeared in four games for the Reds since his call-up, each time as a pinch runner in the late innings. And despite the fact that everyone in the park knows he's going to steal, Hamilton has gone a perfect 4-for-4 on the basepaths with three runs scored. On Saturday, he scored the game-winning run in the 10th inning as the Reds defeated the Dodgers, 4-3.
This weekend also saw two highly regarded prospects collect the first big league hit of their careers. Tigers' outfielder Nick Castellanos picked up the first hit of his career (in his first start, too) Saturday against the Royals. Meanwhile, Diamondbacks shortstop Chris Owings, who put up video-game numbers in the Triple-A Pacific Coast League this season, turned in a pair of two-hit games after going hitless in his first five at-bats.
Here's a detailed look at the top performances by call-ups through the first week of September.