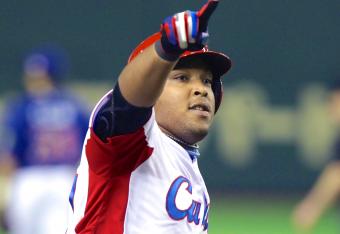 Getty Images
The sweepstakes for Cuban outfielder Yasmany Tomas is down to four teams, writes Jon Heyman of CBSSports.com, with the Philadelphia Phillies, San Diego Padres, Atlanta Braves and San Francisco Giants all in the mix.
However, the last week has seen the Braves and Padres rise to the top and become front-runners to sign Tomas, and both clubs are now sending their top officials to meet with the 24-year-old in the Dominican Republic this weekend.
Unfortunately, it might be a few more weeks until either team can claim an offseason victory, as Tomas is "mulling a number of contract offers" and also considering attending next week's winter meetings in San Diego, per Austin Laymance of MLB.com.
Until then, here's a look at how signing Tomas might impact his top suitors.