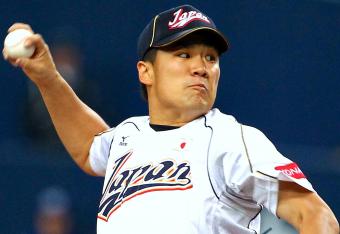 Getty Images
Lost in the madness of whether Masahiro Tanaka will actually take the mound for a Major League Baseball team in 2014 is the need to dissect what kind of pitcher he is.
Via The Japan Times, MLB reportedly reached a basic agreement on a new posting system with the Nippon Professional Baseball League (NPB), where Tanaka has pitched the last seven years with the Rakuten Golden Eagles.
Rakuten team president Yozo Tachibana reportedly wants Tanaka to remain in Japan and may not post him until 2014, though there hasn't been any official word (again via the Times).
We have all heard the legends surrounding the 25-year-old: Tanaka went 24-0 with Rakuten during the 2013 regular season, going unbeaten in 30 starts from August 2012 to November 2013.