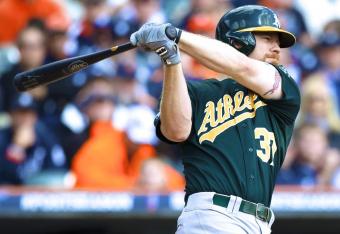 USA Today
Last week, the Cleveland Indians were said to have considerable interest in acquiring Brandon Moss from the Oakland Athletics, and it was widely believed the two teams would strike a deal before the weekend.
It took a few extra days, but the Indians and A's reached an agreement on the first day of the winter meetings, with the Tribe receiving Moss in exchange for second base prospect Joe Wendle, as reported by Yahoo Sports' Jeff Passan:
Moss, 31, emerged as one of the sport's better power hitters over the last three seasons, as his 76 home runs from 2012-14 ranks 18th in the major leagues among all qualified hitters, per FanGraphs. He also batted .254/.340/.504 during that time frame, and his 135 weighted runs created plus (wRC+) ranked 20th overall across both leagues, ahead of players like Hanley Ramirez, Matt Kemp and David Wright.
"The addition of Brandon Moss provides our offense with a proven run-producer and power bat for the heart of our order," Cleveland general manager Chris Antonetti said in a release, via Jordan Bastian of MLB.com.