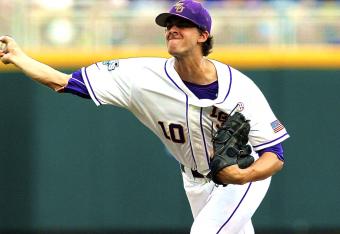 USA Today
At long last, draft week has arrived.
Yet, while the 2014 MLB Rule 4 draft is set to begin Thursday, June 5, it's still unclear how the top half of the first round will play out.
An NC State left-hander was widely considered the top prospect in this year's class entering the spring after his sheer domination over the last two seasons, but his high pitch counts and inconsistent performances this season figures to hurt his consideration as the No. 1 pick.
Carlos Rodon's up-and-down campaign has opened the door for a pair of high school arms to contend for No. 1 honors, as polished left-hander Brady Aiken and flame-throwing righty Tyler Kolek are both viewed as viable candidates. Furthermore, elbow injuries to college right-handers Jeff Hoffman and Erick Fedde have shaken up the first round, as both players were projected to come off the board within the first 15 picks.