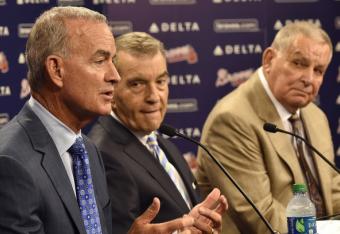 Associated Press
The Atlanta Braves aren't officially rebuilding, at least not yet, but the organization certainly has its sights set on the future.
That became clear back in late September, when Braves president John Schuerholz tore apart the team's front office and then hired a new cast of personnel, all the while emphasizing a need to strengthen the team's farm system and build from within.
Schuerholz replaced general manager Frank Wren with John Hart, who initially carried an interim GM tag before officially taking over as the Braves president of baseball operations, retained assistant GM John Coppolella, promoted Brian Bridges to scouting director and hired widely respected scouting and player development guys such as Gordon Blakeley, Roy Clark and Dave Trembley.
It wasn't long before the Braves' revamped front office put its plan in motion, as it traded Jason Heyward to the St. Louis Cardinals in late November in exchange for a pair of young pitchers.