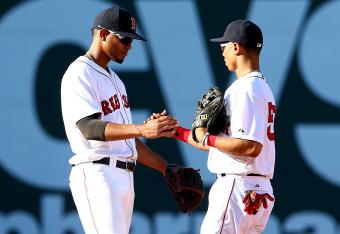 Elsa/Getty Images
Despite graduating a host of players to the big leagues last season, the Boston Red Sox enter 2015 with one of the finest collections of talent in the sport thanks to an aggressive draft strategy and outstanding player development.
The Red Sox's core of pitching prospects continued their steady climb of the organizational ladder, as right-handers Anthony Ranaudo and Matt Barnes reached the major leagues after strong showings in Triple-A, while 22-year-old left-hander Henry Owens, the team's top pitching prospect, furthered his impressive professional career with a strong, consistent performance across Double- and Triple-A.
Switch-hitting catcher Blake Swihart also thrived in his first taste of the high minors, as the 22-year-old hit for both average and power while playing phenomenal defense. Meanwhile, third baseman Garin Cecchini made his mark in the major leagues despite an overall disappointing campaign at Triple-A. Unfortunately, it's hard to see where he fits into the organization's long-term plans after the offseason signing of Pablo Sandoval.
All that being said, 2014 will be remembered as the year Boston's next wave of international prospects put themselves on the prospect radar. Eighteen-year-old third baseman Rafael Devers showcased arguably the highest ceiling in the system with his excellent performance between the Dominican Summer and Gulf Coast Leagues, while 19-year-old outfielder Manuel Margot put himself on the map with his power/speed combo across both Class-A levels.