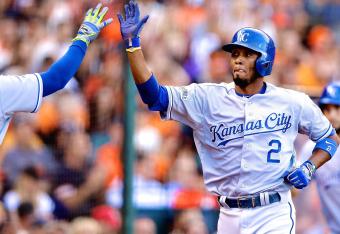 Getty Images
The San Francisco Giants evened the 2014 World Series at two games apiece Saturday, as the National League champions scored seven unanswered runs to defeat the Kansas City Royals 11-4 in Game 4.
The Royals are two wins away from their first World Series title since 1985, while the Giants are nearing their third title in the past five years.
Ace Madison Bumgarner will take the mound for the Giants in Game 5 on Sunday night, while James Shields will attempt to right the ship after a poor showing in Game 1.
Predicting who will shine in the World Series, or the playoffs in general, is always tricky, and oftentimes, it's the players you least expect who come up with the key hit. That said, what follows is an effort to handicap the odds for World Series MVP honors based on players' performances to this point in the series as well as their potential impacts in the remaining games.