LIU-Brooklyn vs. James Madison: Live Score, Highlights and Reaction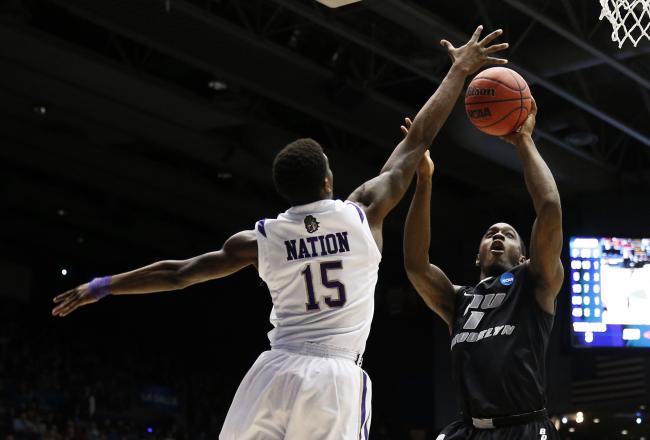 A.J. Nation scores 20 to lead James Madison to a 68-55 win over LIU-Brooklyn. JMU will face No. 1 Indiana in the next round of the Tournament in Dayton on Friday, March 22.
Game highlight: JMU"s Andre Nations gets a huge block.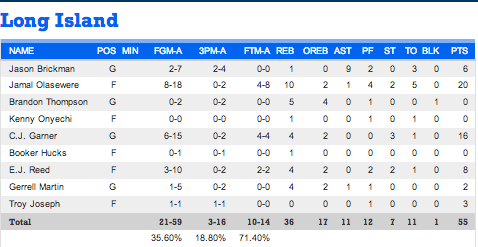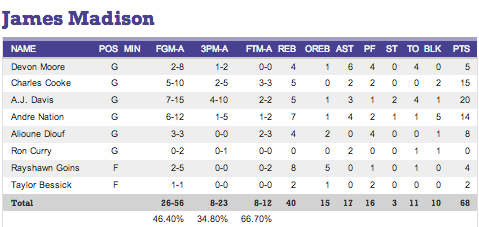 And we have a final in Dayton. James Madison hangs on to win by 13 and will face No. 1 Indiana in the next round.
Common opponent for IU and James Madison: North Dakota State. IU beat NDSU 87-61 at home. James Madison lost to NDSU 66-44 on neutral floor.

— Alex Bozich (@insidethehall) March 21, 2013
Top-seeded Indiana (27-6) will play James Madison (21-14) at 4:10 p.m. on Friday on TBS in the NCAA Tournament.#iubb

— Jeff Rabjohns (@JeffRabjohns) March 21, 2013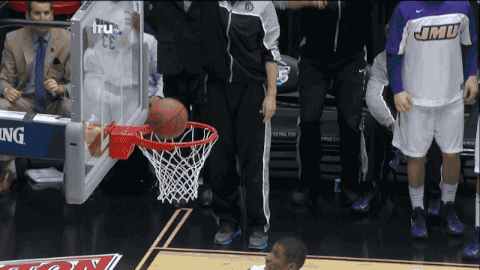 The JMU bench is feeling it now. Air guitar being played!

James Madison now has a 10-point lead with under 3 minutes left.
Andre Nation is killing. Big Blue Nation is, well, expired.

— Dennis Dodd (@dennisdoddcbs) March 21, 2013
LIU switches to man to man with 4 mins to play. Too little too late?

— Seth Davis (@SethDavisHoops) March 21, 2013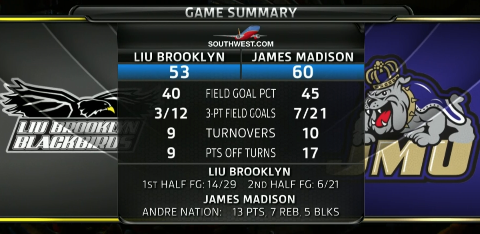 Game summary.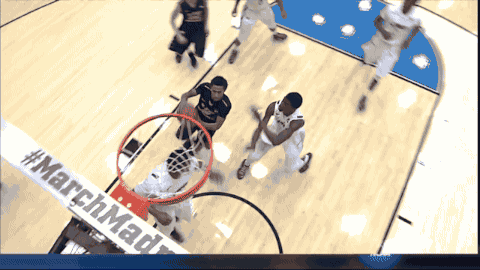 Andre Nation comes up with the huge block on C.J. Garner's layup attempt.
My Blackbirds just don't get enough stops. .... UGH and they can't miss layups!!

— Ralph D. Russo (@ralphDrussoAP) March 21, 2013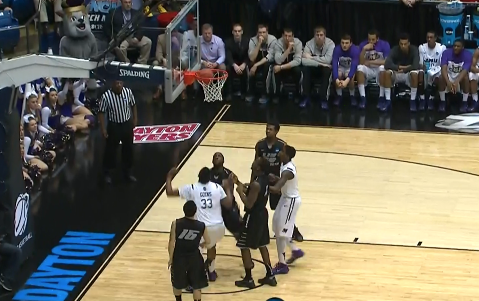 Rayshawn Goins scores his first basket of the game to put JMU up four. James Madison has 8 offensive rebounds in the second half.
Olasewere with the finish off another dish from Brickman. LIU within 54-51, 7:43 to go 2H. #LIUMBB

— LIU Basketball (@LIUBasketball) March 21, 2013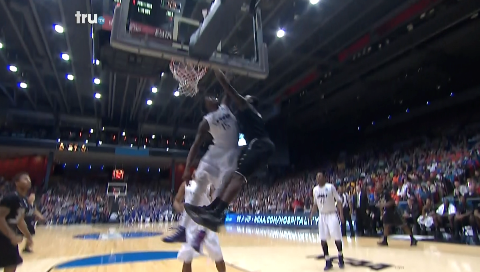 Jamal Olkasewere throws it down over JMU's Andre Nation.
James Madison senior A.J. Davis having a nice game, has 15 points. 8-0 run puts JMU up 47-40. LIUB has missed 5 in a row after 1 pt lead.

— Jeff Rabjohns (@JeffRabjohns) March 21, 2013

James Madison goes on a 6-0 run to go up by five as we head into a timeout.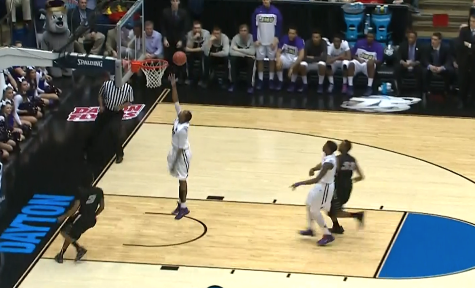 Devon Moore splits the defenders for the fastbreak layup to give James Madison the lead back.
LIU-Brooklyn coach Jack Perri said Rayshawn Goins is "just a house down low" yesterday. So true. Goins listed at 265 lbs.

— Nicole Auerbach (@NicoleAuerbach) March 21, 2013

LIU-Brooklyn is down three as we head into a timeout. The Blackbirds will have two free throws coming when we return.
E.J. Reed just committed a really ill-advised goaltending play. Would have been a three-point play for C.J. Garner.

— Jeff Borzello (@jeffborzello) March 20, 2013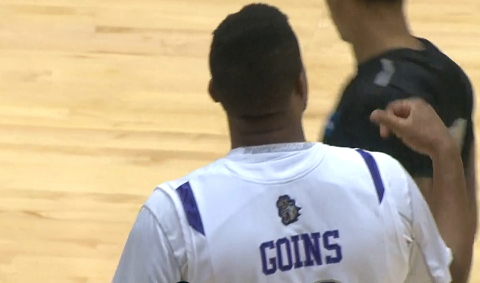 Rayshawn Goins has returned for the second half after sitting the first half for disciplinary reasons.
This article is
What is the duplicate article?
Why is this article offensive?
Where is this article plagiarized from?
Why is this article poorly edited?