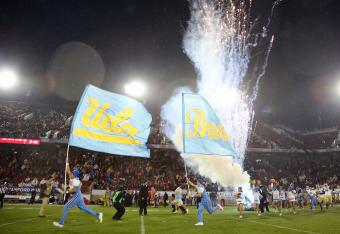 Ezra Shaw/Getty Images
Pac-12 teams should start paying more attention to UCLA's scheduling philosophy. It may improve the league's image.
UCLA has played Tennessee, Kansas State and Texas twice in the past five years. This year the Bruins will play at Nebraska as part of its non-conference schedule.
That's a tough stretch for a football program trying to reverse a decade of underachievement. But scheduling high-profile teams in well-respected conferences has helped UCLA build a pipeline to high schools in states with fertile recruiting grounds.
The Bruins class of 2013 includes three Texas products: 4-star receiver Eldridge Massington (Mesquite), 4-star linebacker Deon Hollins (Missouri City) and 4-star guard Caleb Benenoch (Katy).