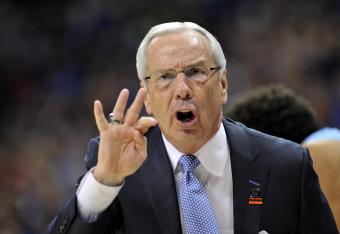 Roy Williams already has three commitments from the 2014 class and he's out to get a fourth.
Peter G. Aiken-USA TODAY Sports
Roy Williams has been criticized throughout his career for picking and choosing the years he hits recruiting hard. But whether you love him or hate him, you have to admit that Williams is one of the best roster builders in the country.
This year has been one where Williams responded to what was a "down" year in Chapel Hill with what could be regarded as one of his best recruiting classes ever. UNC's 2014 class is currently ranked No. 1 by ESPN.com.
Williams added to his team's depth on the wing and at point guard by getting commitments from small forwards Justin Jackson and Theo Pinson along with point guard Joel Berry. He has one spot left to fill in the 2014 class, and it's likely to go to a sharp-shooting guard.
The most successful UNC teams in Williams' first 10 seasons have usually been the best three-point shooting teams.