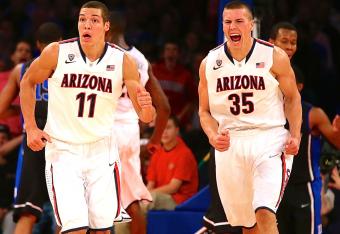 Getty Images
If you weren't already taking Arizona seriously as a contender to win it all this season, Friday night's 72-66 win over Duke in the championship game of the NIT Season Tip-Off should have officially put the Wildcats on your radar.
As tends to be the case when Arizona is on the court, it was a total team effort from arguably the best seven-man rotation in the country.
After the game, Nick Johnson told Jim O'Connell of the Associated Press, "We're an all-around team. Really you could see it in the box score. It was pretty even all the way around."
All five starters finished with at least 10 points. Led by T.J. McConnell's eight dimes, the Wildcats recorded an assist on 18 of their 23 made field goals. They outrebounded Duke by a 36-29 margin while tallying two more steals and six more blocks than the Blue Devils. In every facet of the game, they were statistically and visibly better than a team widely regarded as a favorite to win the ACC and contend for a national championship.