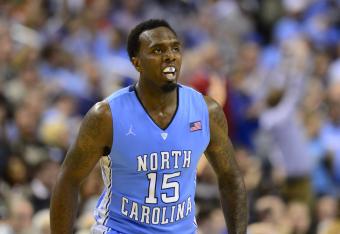 Bob Donnan-USA TODAY Sports
The story of North Carolina star P.J. Hairston's offseason driving adventures gets worse by the day for both Hairston and the Tar Heels.
What we know, thanks to USA Today's Eric Prisbell's reporting, is that Hairston got behind the wheel of a car rented by a convicted felon at least one time. He also got behind the wheel of a car rented by a woman who lives with that convicted felon another time.
That convicted felon, Haydn Thomas, and the woman who shares his address, Catinia Farrington, spent $15,020.35 on vehicle rentals between Feb. 14 and June 25 at a Hertz location at the Raleigh-Durham International Airport, Prisbell reported on Tuesday.
Prisbell also reported on Tuesday that those rented cars have received nine parking citations from UNC campus police since February.