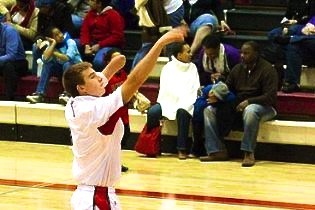 Zach Hodskins only has one arm. Now he has an offer from Florida to play basketball.
Hodskins will be a senior at Milton High School in Alpharetta, Ga., and according to his former coach David Boyd, the one-armed baller has been offered a preferred walk-on spot by the Gators. Yahoo! Sports' Cameron Smith added that Hodskins has also received interest from the University of Alabama-Birmingham and Birmingham Southern.
Cool story, right? It is. But it's much more than that. Hodskins can play. His highlight video has more than three million views for a reason.
Hodskins shot nearly 60 percent from the perimeter this past season for his high school team in Georgia. Make a guy use one hand, and he's bound to become twice as good at shooting, dribbling and passing with that one hand than the next guy is with two. That's the case for Hodskins.