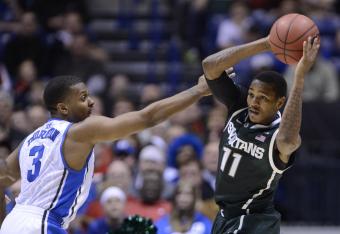 Michigan State's coaching staff is trying to turn Keith Appling into more of a distributing point guard.
Jamie Rhodes-USA TODAY Sports
Michigan State has all the tools to win a national championship. The Spartans have future pros, they have experience and they have a coach who has won before.
But they've just been missing one thing: a pass-first point guard.
Those aren't my words.
That has been Tom Izzo's message to Keith Appling, Michigan State's scoring guard, who has had to play point guard for three seasons. Earlier this month, Izzo told Mike DeCourcy of Sporting News: "We told him in the spring you either change or I'm not going to play you at that position."
That's quite the demand. And it's good coaching too.