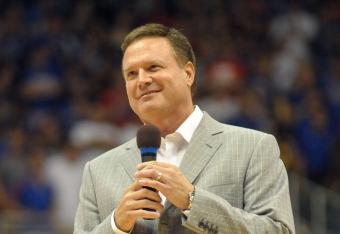 Kansas coach Bill Self speaks to the crowd at KU's Late Night in the Phog.
Denny Medley-USA TODAY Sports
The Kansas Jayhawks basketball team held a scrimmage on Saturday morning that Bill Self said was for the fans who couldn't get in the doors at KU's Late Night in the Phog two weeks ago.
It was a good reason. Kansas had to turn away thousands of fans two weeks ago.
But if Self was being honest, he would have said the scrimmage, the first of its kind in his tenure at Kansas, was meant for an audience of two: Jahlil Okafor and Tyus Jones.
Okafor is the consensus top player in his recruiting class, a throwback big man in the mold of a Tim Duncan. Jones is the consensus top point guard. And ever since they made it known that they wanted to play together, they became the Andrew Wiggins of the 2014 class.