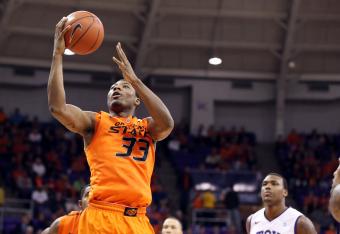 Marcus Smart made an immediate impact last year at Oklahoma State. He averaged 15.4 points, 5.8 rebounds and 4.2 assists as a freshman.
Jim Cowsert-USA TODAY Sports
Marcus Smart has declared for the 2014 NBA draft.
It's not official, of course, but Smart made his intentions known to Marc Spears of Yahoo! Sports, saying that "barring injury" he will leave Oklahoma State after his sophomore season.
"It's safe to say that if, by the grace of God I'm healthy and everything, this will be my last year at Oklahoma State," Smart told Spears during USA Basketball's minicamp practice Tuesday at UNLV. "Nothing will change my mind on that. [Oklahoma State] understands. They didn't figure I was coming back this year. They were just as surprised as everyone else."
This is no surprise. It was already assumed that he would be gone after next year, although, to be fair, it was assumed he would jet after his freshman season when Smart was expected to be one of the top picks in the 2013 draft.