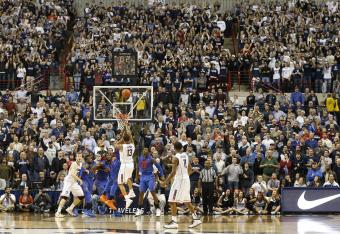 David Butler II-USA TODAY Sports
The current Player of the Year race has two point guards—Connecticut's Shabazz Napier and Oklahoma State's Marcus Smart—out in the lead. And the immediacy effect of the final plays of their last games has a big impact with where they rank this week.
Napier is the pick today after his game-winner against Florida, knocking Smart from the top spot after his two turnovers in the final minute against Memphis, combined with several other mistakes he made down the stretch.
The fact that Connecticut even had a shot to beat Florida in the final seconds was because of Napier's four-point play in the final minute, but he easily could have taken the blame for the final possession going wrong had he not received a very fortuitous bounce to set up his buzzer-beater.
Look at the screen shot in the final slide, and you can see that as Napier rises to take his shot, both Lasan Kromah and Niels Giffey are open and would have had time to take a dribble and possibly get to the rim had Napier passed the ball.