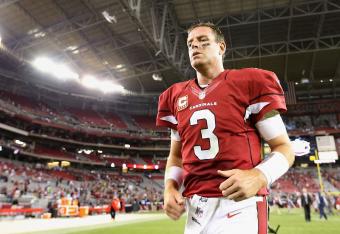 Christian Petersen/Getty Images
A new head coach and a new general manager gave the Arizona Cardinals hope this past offseason. Fans and media members alike believed Bruce Arians and Steve Keim had the necessary know-how to upgraded a porous quarterback position and one of the worst offensive lines in the league.
Unfortunately for Cardinals fans, the same demons that have haunted this team for the last three seasons are haunting them again in 2013. According to the analysts at Pro Football Focus (subscription required), Arizona's offensive line is the worst pass-blocking unit in the NFL, and quarterback Carson Palmer is the 22nd-best signal-caller in the league.
Palmer should feel lucky to be the 22nd-best quarterback at this point. His performances the last five weeks have been downright atrocious. Over the course of his last five contests, the 11-year veteran has thrown two or more interceptions in every game and his quarterback rating is 62.4.
Yet Arians continues to deflect blame away from his quarterback on a weekly basis. The first-year head coach is quick to point out the flaws of every offensive player, except Palmer. Here are a couple examples of how the blame week in and week out never falls on his shoulders: