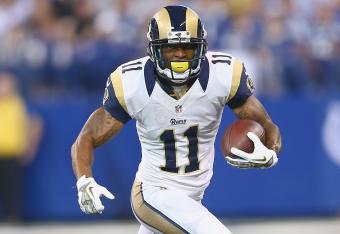 (Photo by Andy Lyons/Getty Images)
Heading into Week 10, pundits from around the league felt head coach Jeff Fisher and the St. Louis Rams might not win another game the entire season.
Even though the defensive side of the ball had upped its level of play after franchise quarterback Sam Bradford went down with a torn ACL, backup quarterback Kellen Clemens hadn't done enough in Weeks 8 and 9 to ensure the organization that he had the necessary know-how to lead scoring drives and win games for the Rams.
However, this past Sunday against the Indianapolis Colts proved to be a different story. For the first time since he took over under center, Clemens looked calm, cool, collected and accurate in the pocket. Gone were the wild, errant throws that plagued him over the course of his first two starts.
In addition to a more settled, relaxed passer, offensive coordinator Brian Schottenheimer did his part as well. His play-calling effectively limited the number of throws Clemens had to make. By the time the clock struck zero at the end of the game, the eighth-year signal-caller had only attempted 16 passes in 55 snaps.