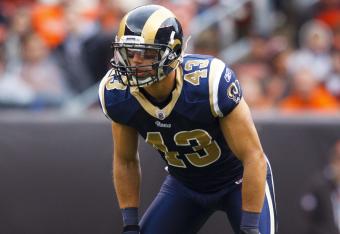 Rick Osentoski-USA TODAY Sports
When Craig Dahl signed with the St. Louis Rams in 2009, he knew he would have the opportunity to start at one of the two safety positions.
Dahl had spent the first two years of his NFL career learning head coach Steve Spagnuolo's defensive system in New York, so the transition seemed painless at the time.
However, it didn't matter how well Dahl knew the playbook. He quickly learned that the life of a starting safety in the NFL isn't easy. According to Pro Football Focus, he was targeted 41 times in his first season with the Rams (subscription required). He allowed three touchdown receptions on those 41 targets, and opposing quarterbacks finished the season with a quarterback rating of 111.6 when they threw his way.
Yet, one less-than-impressive season didn't keep Dahl down. He vowed to improve his coverage skills in 2010 and beyond. Over the course of his final three seasons in St. Louis, he showed an uptick in production. The 2012 season was by far his most productive.