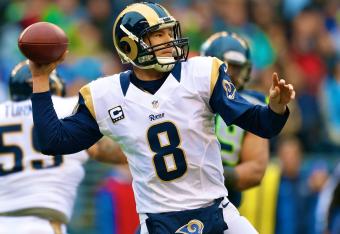 When the St. Louis Rams drafted Oklahoma quarterback Sam Bradford with the No. 1 overall pick in 2010, it signaled a changing of the guard. Marc Bulger's better days were behind him, and the franchise was coming off a 1-15 season.
General manager Billy Devaney and head coach Steve Spagnuolo knew the organization needed a young signal-caller to restore the team's credibility. Nebraska defensive tackle Ndamukong Suh was in the discussion for the No. 1 overall pick, yet in today's NFL, quarterbacks win Super Bowls not interior defensive linemen.
Prior to the draft, Devaney played it cool and let the process play out, but deep down he knew he was going to pick Bradford. It didn't take much convincing. The Heisman Trophy winning quarterback persuaded the third-year general manager after 15 warm-up throws at his pro day.
Here's what Devaney told Jim Corbett of the USA Today: