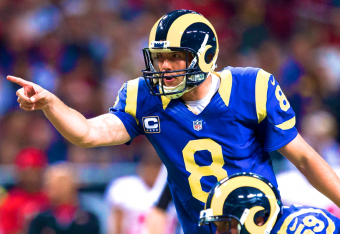 Prior to the season, pundits praised the St. Louis Rams and their offseason efforts, and through the first three games of the season, the fruits of that labor have paid off. However, with a Thursday Night Football matchup with the San Francisco 49ers in Week 4, franchise quarterback Sam Bradford may be in for a rude awakening.
Head coach Jeff Fisher and general manager Les Snead added viable weapons to Bradford's arsenal in the offseason: Wide receivers Tavon Austin and Stedman Bailey were brought in during the draft, and tight end Jared Cook was added in free agency.
Moreover, Fisher and Snead equipped Bradford with one of the best all-around left tackles in the NFL, Jake Long.
According to the analysts at Pro Football Focus (subscription required), Long is the 11th-best blind-side protector, and the Rams' aerial attack is averaging 282.7 yards per game. That makes them the eighth-best passing team in the league.