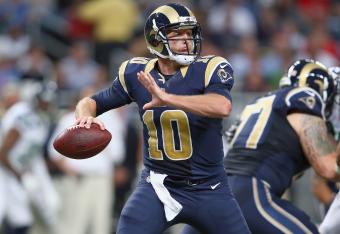 (Photo by Andy Lyons/Getty Images)
Who would have ever expected the St. Louis Rams defense to hold the Seattle Seahawks offense to 135 yards on 40 plays? Quarterback Russell Wilson was pushed off his spot all game long thanks in large part to defensive ends Robert Quinn and Chris Long.
Quinn and Long partnered up for six quarterback sacks and eight quarterback hits against a depleted offensive line. When called upon, good players are paid large amounts of money to take advantage of favorable matchups. There's no question both players answered the call all game long.
Unfortunately, pats on the back and moral victories don't mean a thing in the NFL.
Just ask Kellen Clemens: He arguably played the best game of his eight-year career on Monday Night Football. He orchestrated offensive coordinator Brian Schottenheimer's offense beautifully at times, he made some tough throws off play-action fakes and he was one yard away from securing a game-winning drive.