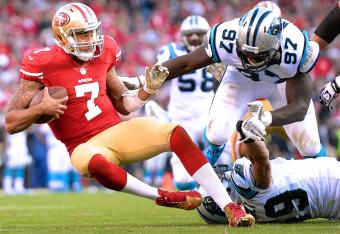 Coming into Week 10, the San Francisco 49ers were on an absolute roll. After a rocky start to the season at 1-2, they made it a point to retool the offense by getting back to its roots. Running back Frank Gore started to shoulder the load on the ground, and quarterback Colin Kaepernick capitalized with effective play-action passes.
Pundits believed the 49ers were turning into the team to beat in the NFC West based on the fact they had figured out their early-season woes. Unfortunately, that notion came to an end when the Seattle Seahawks notched their fifth road win of the season, and the Carolina Panthers traveled all the way across the country to knock off head coach Jim Harbaugh and Co.
Even though the score ended up being 10-9, Carolina's defense tormented and bullied San Francisco's offense all game long. Gore and the run game faired OK at 4.4 yards a pop on 24 carries, yet Kaepernick and the aerial assault was absolutely abysmal.
On 22 throws, the third-year signal-caller out of Nevada completed 50 percent of his passes, averaged 4.1 yards per attempt and was picked off once. This, in turn, meant he registered his lowest home quarterback rating of the season (42.0) and the lowest QBR of his career (7.7).