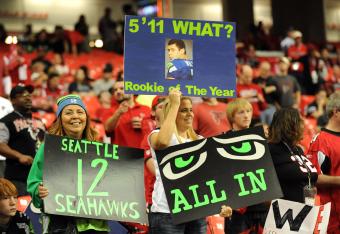 Kevin Liles-USA TODAY Sports
For those of you who don't believe in the 12th man or label it as a myth that has no impact on the opposition, shame on you.
According to the Seattle Seahawks Twitter account, opposing offenses have amassed 121 false starts at CenturyLink Field since 2005.
That number is easily tops in the NFL over the last eight years. On Sunday Night Football this past season, Michele Tafoya ran a test on camera to see just how loud CenturyLink was from a players' perspective. If you haven't seen the video, it can be found here on the Seattle Seahawks website.
The countless false start and delay of game penalties should be enough evidence to sway those who don't think the noise favors the Seahawks at home, but if that's not enough, just go back to the Fox Sports telecast in 2005 when they measured the decibel level at 112.