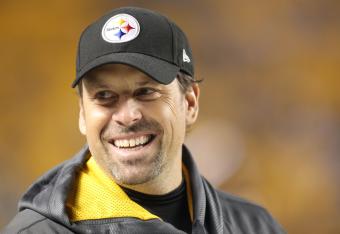 Charles LeClaire-USA TODAY Sports
Conflicting reports about Todd Haley's whereabouts have been swirling for the last 24 hours. A number of reports from around the league say the Steelers' offensive coordinator is happy in Pittsburgh and will politely decline the opportunity to interview with the Arizona Cardinals:
Other reports from inside the Steelers organization say that Haley did indeed interview for the position today in Arizona:
Now the question becomes, who is right and who is wrong? Surely it's obvious that the most relied upon and trusted source in this situation would be team president Art Rooney. It's implied that he would be all knowing when it comes to anything Steelers, but Haley's agent doesn't think so:
Is it possible that Haley didn't tell his agent? It's highly unlikely that's the scenario in this situation. Jerome Stanley would handle all the communication and arrangements of his client's visit to Arizona, so he would be in the know of everything that was going on.