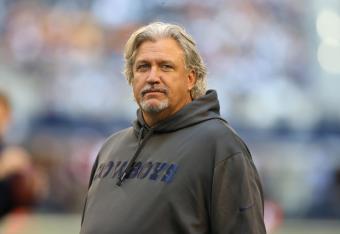 Matthew Emmons-USA TODAY Sports
Late last week Rob Ryan to the St. Louis Rams was all but done. Both sides had agreed on a contract (via Adam Schefter of ESPN.com) and they were preparing to move ahead with the hire. It was believed the organization would announce the hire of Ryan as defensive coordinator and Frank Bush as linebackers coach.
The Bush hire happened and was announced this morning, according to the team's official Twitter account. But the Rams released a statement about the non-hire of the 50-year-old Ryan: "After extensive discussions involving defensive philosophy, the Rams and Rob Ryan agreed that he was not the right fit for the defensive coordinator position."
So, that's that apparently. The hire initially raised questions regarding the future of St. Louis' defense, considering Ryan has run a 3-4 defensive scheme for the majority of his career and is obviously more comfortable calling plays from a system that has been ingrained in him for the last four years.
Bernie Miklasz of the St. Louis Post-Dispatch notes in his column that Jeff Fisher has a strong history of assembling a staff that is going to get a long and work well together: