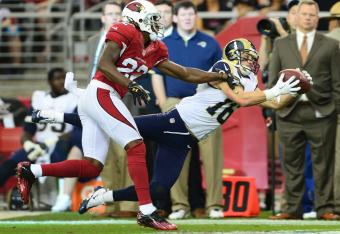 Mark J. Rebilas-USA TODAY Sports
After only playing five snaps against the Arizona Cardinals Week 12 and missing Week's 13 and 14 with a foot injury, it appears as if Rams top wideout, Danny Amendola, will finally see the field this Sunday against the Minnesota Vikings.
He was listed as doubtful against the 49ers and he was listed as questionable against the Bills, so if his foot is progressing on the correct timetable, Rams fans and officials alike would welcome him back on the field amidst a three-game winning streak in Week 15.
Moreover, the Rams finish the season with back-to-back road games against Tampa Bay and Seattle—so, there's no question Sam Bradford's favorite target will need to be in the lineup if they plan on making it six wins in a row to close out the season.
Currently, St. Louis holds the No. 10 seed in the NFC playoff picture, but things could change mightily if the Rams take down Minnesota and Seattle. Right now both teams are ahead of them in the playoff push, yet the Rams can make things a lot easier on themselves by winning out because of the fact they are only two games back from the sixth and final seed.