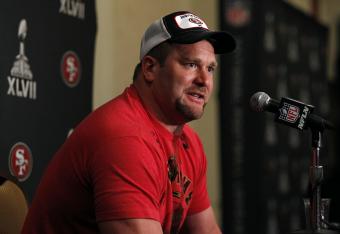 Tyler Kaufman-USA TODAY Sports
Despite partially tearing his triceps muscle just a month and a half ago, Justin Smith knows his left arm is slowing making progress, and he only has to deal with the pain for 60 more minutes. Smith had this to say when Matt Barrows of the Sacramento Bee asked him about playing with the pain: "I know how many games I have left—four quarters."
Smith went on to add that he would indeed have surgery after the Super Bowl to repair the injury. Sometimes torn triceps and biceps muscles can heal on their own, but in his case it simply won't. It's healing up enough so that some of the discomfort is alleviated, but that's about it.
Since returning to the lineup in the divisional playoff round, Smith's impact hasn't been felt as much as it was in the regular season. Yet, it's better than any backup could offer. His play against the run has yielded the most praise, as he has six defensive stops in the past two games, according to Pro Football Focus.
Unfortunately, rushing the passer hasn't been his forte over the last two weeks. He's managed a minuscule two quarterback pressures on 83 pass-rush snaps. However, his return to the defensive line has helped Aldon Smith pile up 12 total pressures during the 49ers' postseason run.