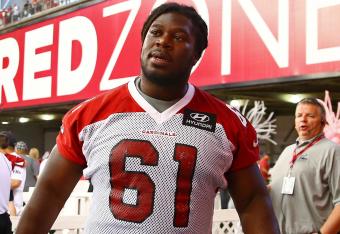 Mark J. Rebilas-USA TODAY Sports
To the surprise of no one, the Cardinals' offense was the league's worst unit in 2012. They averaged 263.1 yards per game, 15.4 first downs a game and 4.1 yards per play. Their offensive inefficiencies last year were a direct result of poor play at the quarterback position and along the offensive line.
Over the course of the first eight games of the season, Arizona's offensive line surrendered 31 quarterback sacks, 17 quarterback hits and 102 quarterback hurries. Their worst two-week stretch was Weeks 4 and 5. Against the Dolphins (Week 4) and the Rams (Week 5), quarterback Kevin Kolb was pressured 51 times total.
The worst individual performer during that eight-game span was right tackle Bobby Massie. On a weekly basis, Massie was beaten like a drum by opposing defensive ends. Prior to the team's Week 9 contest against the Packers, the fourth-round pick conceded 13 quarterback sacks, three quarterback hits and 35 quarterback hurries.
His disappointing performances were surprising. Some draft analysts were high on Massie because of his size, power and athleticism. Sure, he was playing an entirely different position than he played in college, yet few expected such discouraging results from the 316-pound road grader.