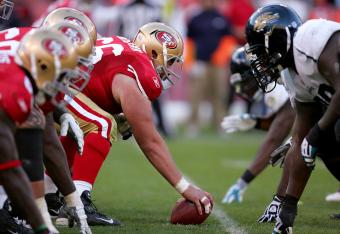 Ezra Shaw/Getty Images
Back in October the NFL announced that the San Francisco 49ers and the Jacksonville Jaguars would meet in Week 8 of the 2013 season at Wembley Stadium in London. The game is scheduled to kick off at 1:00 p.m. ET here in the states and 5:00 p.m. across the pond.
The 49ers will be represented as the away team, and the Jaguars will commit to using one of their eight home games in the U.K. This commitment came as a four-year deal, which means the Jags will use one of their home games in 2013, 2014, 2015 and 2016.
Commissioner Roger Goodell told NFL.com, "By committing to play a regular-season home game in London in each of the next four years, the Jaguars will play a major role in helping grow our sport in the UK and beyond."
Goodell's assurance to the growth of the sport's global presence has helped ticket sales more than anything. According to Pro Football Talk's Twitter account, the 49ers-Jaguars matchup is already sold out. Not to mention the second London game, Steelers-Vikings, is sold out as well.