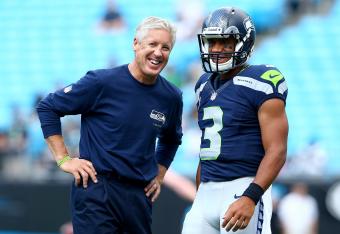 Streeter Lecka/Getty Images
Ever since head coach Pete Carroll and general manager John Schneider took over in the Emerald City, the Seattle Seahawks have been lauded for their ability to draft the perfect players for their system while finding valuable gems in free agency.
Yet Carroll and Schneider weren't always viewed as heroes. After back-to-back 7-9 seasons in 2010 and 2011, pundits started to question whether or not the organization should put both men on the hot seat. Sure, the Seahawks won a division title and a playoff game in the duo's first season, but a 14-18 record was far from stellar.
The most obvious reason behind the sub-.500 record was the lack of structure at the quarterback position. From the start of the 2010 season to the end of the 2011 season, Matthew Hasselbeck, Charlie Whitehurst and Tarvaris Jackson encompassed the makeshift group.
Some felt the franchise could win with Jackson under center based on the fact the defense was playing at a top-notch level, but deep down Carroll and Schneider knew they needed a star at the position. This was exactly why they brought in Matt Flynn during free agency and drafted Russell Wilson.