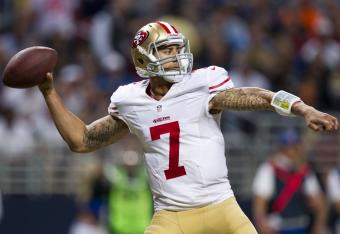 David Welker/Getty Images
After Colin Kaepernick's magical run in 2012, pundits around the league started to proclaim that the San Francisco 49ers might sport the best quarterback in the NFL. With signal-callers like Drew Brees, Tom Brady and Peyton Manning all embarking on the final stages of their respective careers, the idea didn't seem too far-fetched.
Shoot, even Ron Jaworski of ESPN believed (prior to the season) that Kaepernick had all the necessary tools to be one of the "greatest quarterbacks ever." In terms of physical tools, there aren't many people who would disagree with that sentiment.
Yet, the third-year pro out of Nevada leaves plenty to be desired as far as the mental side of the game goes.
Nonetheless, it's hard to argue with the numbers he amassed in 2012. In seven regular-season starts, he tallied 1,608 yards passing, 10 touchdowns through the air and two touchdowns on the ground. Additionally, the analysts at Pro Football Focus (subscription required) graded him out as the 12th-best quarterback in the league.