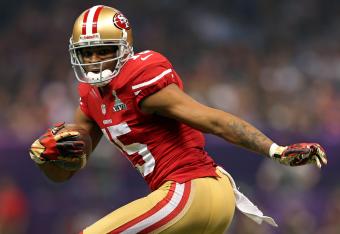 Mike Ehrmann/Getty Images
After three sub-par seasons in San Francisco to start his career, the light bulb finally went off for wide receiver Michael Crabtree in 2012. He led the 49ers in receptions, yards and receiving touchdowns by securing 85 passes for 1,105 yards receiving and nine touchdowns.
Moreover, he turned in two 100-yard receiving games over the course of three playoff games.
Even though the 49ers didn't win the Super Bowl in 2012, Crabtree appeared to be on his way to superstardom. Not to mention the fact he was also finally starting to live up to his lofty draft status (former 10th-overall pick in 2009).
However, life rarely follows suit, especially in the NFL. Mike Garafolo of the USA Today tweeted out a short time ago that Crabtree suffered a torn Achilles yesterday during San Francisco's organized team activities.