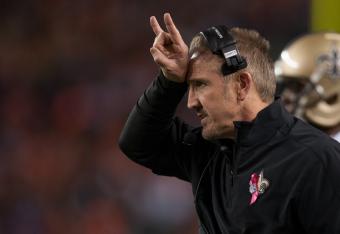 Dustin Bradford/Getty Images
It's almost as if the New Orleans Saints can't find a way to return to normalcy.
Just days after the 2012 regular season ended, a season of turmoil from start to finish, an anonymous defensive player told Larry Holder of the Times-Picayune that there was a growing sense from the defensive players that defensive coordinator Steve Spagnuolo should be fired.
The anonymous player said that even though the team praised Spagnuolo's work during the season, it was just puppet talk, an attempt to put on a good face in a terrible situation.
The Saints defense gave up 28.4 points per game; only the Tennessee Titans were worse. Far more extreme, however, was the fact that New Orleans became the first team in NFL history to allow more than 7,000 yards from scrimmage to opposing offenses.