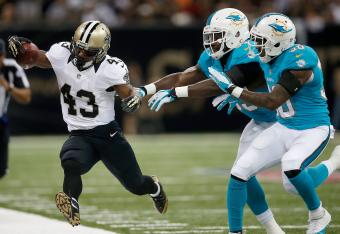 Chris Graythen/Getty Images
One of the first items New Orleans Saints head coach Sean Payton said he wanted to do upon his return to the team this season was to enhance the focus on the running game.
Running back Pierre Thomas told Larry Holder of The Times-Picayune in May that during the team's first meeting with Payton, the head coach laid out his ideas about running the ball on offense:
Through the first quarter of the 2013 season, Payton's plan hasn't come to fruition.
The Saints, however, have a healthy 4-0 record, rank fourth in the league in total yards per game (419.5) and rank seventh with a 27 points per game scoring average. New Orleans has had much success on offense, even though the team has only eclipsed the 100-yard rushing mark once and averages a paltry 81.3 yards per game on the ground.