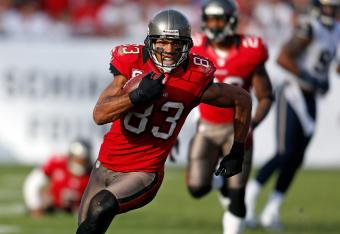 J. Meric/Getty Images
When the 2013 NFC Pro Bowl was announced, only one player from the Tampa Bay Buccaneers was on the list; defensive tackle Gerald McCoy.
There were three other players on Tampa Bay's roster that were close to being Pro Bowl worthy but didn't quite make the grade. Wide receiver Vincent Jackson, rookie running back Doug Martin and free safety Ronde Barber all had shots at the honor, but none were selected.
And that was the right call.
Jackson was on the outside looking in at a number of talented wide receivers. Calvin Johnson and Brandon Marshall were selected as the starters, and Julio Jones and Victor Cruz are the backups. Johnson and Marshall were no-brainers, and Jones was definitely solid too.
The Cruz selection was a mystery, unless the 2011 was factored in. Which it was not.