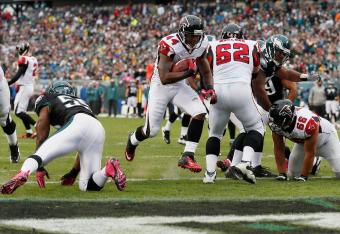 Rob Carr/Getty Images
In case you were wondering what it is about this Atlanta Falcons offense that's driving its success: it's the screen pass.
The Falcons rank fifth in the league, scoring 28.7 points per game, and look absolutely unstoppable at times. Quarterback Matt Ryan is playing at an MVP-type level, he has Pro Bowl-caliber targets in Roddy White, Julio Jones and Tony Gonzalez, and the offense has the depth to get multiple players involved—seven players have caught touchdown passes in 2012.
All these options, however, we're available to this team last season, and it's not just growth and the maturation process that's benefited the Falcons and sparked this meteoric rise.
New offensive coordinator Dirk Koetter brought with him from Jacksonville a unique play-calling philosophy that's been a perfect glass-slipper fit for Ryan and the Falcons' offense. And yes, this team could be getting dressed for the Super Bowl ball if Koetter can keep this momentum.