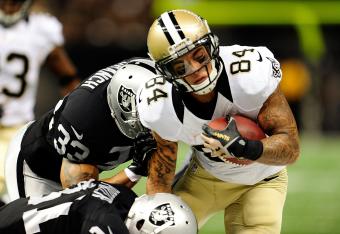 Stacy Revere/Getty Images
Wide receiver and fifth-round pick Kenny Stills has all but locked up a roster spot for the New Orleans Saints. Heck, he may even be the best No. 3 receiver in the NFC South. Not too shabby for a guy who many worried made a mistake by leaving Oklahoma for the NFL a year early.
Although he didn't get off to a bright start in the Saints first preseason game—Stills dropped a pass in the first quarter and fumbled a handoff exchange and was called for offensive pass interference in the second quarter—Stills has been nothing short of brilliant since with seven receptions for 140 yards and two touchdowns in three games.
Stills wowed onlookers with his 40-yard dash time at the NFL combine and has been impressive in his ability to get behind receivers in preseason action and win balls thrown his way.
Of Stills' seven preseason receptions, three have been deep passes of 20 yards or more, one a 40-yard completion.