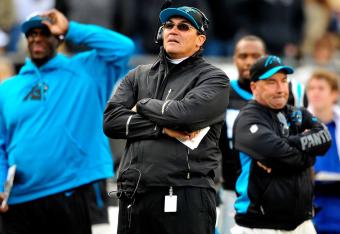 Grant Halverson/Getty Images
The Carolina Panthers are 2-8 after losing to the Tampa Bay Buccaneers at Bank of America Stadium on Sunday. After seven losses, it seemed that the Panthers had shown every possible way to get beaten.
When Carolina dropped its eighth game, the Panthers found a new way to lose.
The Panthers have dropped games late because of turnovers and predictable defensive play-calling, but the Panthers had never been flat out run over. Not until the Bucs did that at the end of their Week 11 matchup.
With 1:02 left on the clock and the Panthers clinging to an eight-point lead, the Bucs went to work. Josh Freeman's first pass was incomplete, as was his second. But a Thomas Davis unnecessary roughness penalty gave Tampa Bay a first down.