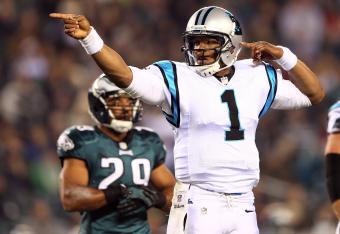 Elsa/Getty Images
In a game where the Carolina Panthers did a number of things right, the absolute best aspect of their 30-22 win over the Philadelphia Eagles was the fact that they pulled out a close game.
The Panthers have six losses this season by six points or less, and even worse is the way this team has found many methods of losing.
Quarterback Cam Newton fumbled in the waning moments of Carolina's Week 4 loss to Atlanta, allowing Matt Ryan and the Falcons one last shot to come from behind. The Chicago Bears used the same play over and over again in their final drive of Week 8 to come from behind to beat Carolina.
Last week, the Tampa Bay Buccaneers orchestrated two 80-yard drives—one in the fourth quarter to tie the game, and one in overtime to win—to topple the Panthers.