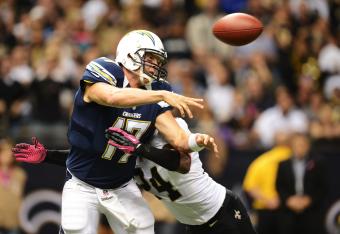 Harry How/Getty Images
On the way to their first win of the season, the New Orleans Saints didn't fix too many of the issues that plagued them through four winless weeks prior.
San Diego Chargers quarterback Philip Rivers threw for 354 yards as the Saints pass defense remained slightly more than a small speed bump on the gridiron asphalt.
The Saints running game was still nonexistent, for the most part. Pierre Thomas, Mark Ingram and Darren Sproles combined for 55 rushing yards on 19 carries, just under three yards per carry.
But one area where the Saints wreaked havoc on Sunday Night Football, one area where the Saints had failed to make an impact through the first quarter of the season, was the pass rush.