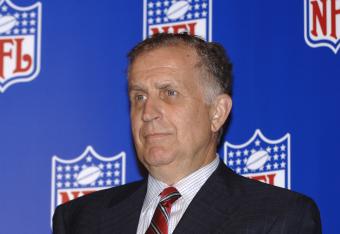 A. Messerschmidt/Getty Images
Paul Tagliabue made sure that the passion and the vernacular of the NFL locker room remained strong in his 22-page ruling on the New Orleans Saints bounty case Tuesday.
Tagliabue reversed NFL Commissioner Roger Goodell's original and re-issued punishments of all four Saints' players—Jonathan Vilma, Scott Fujita, Will Smith and Anthony Hargrove—and wiped away any suspensions for their involvement, or lack thereof in the alleged pay-for-injure scandal that rocked the Saints in the offseason.
In the most basic sense of things, Tagliabue said that while bounties may have been mentioned in the locker room, it was impossible to differentiate whether or not that talk actually persuaded any actions on the field of play.
Passionate pregame speeches can stick around. Hall monitors won't be placed in every locker room to ensure nothing negative or inciting is mouthed to fire a team up before a big game.