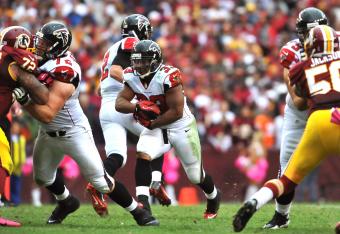 Larry French/Getty Images
It's usually not an easy task to face an NFL team after its bye week. With an extra week for the coaching staff to prepare, and for the players to heal, teams can put up stellar efforts after a week of rest.
That's what's happening to the Atlanta Falcons on Sunday as they welcome the Oakland Raiders to the Georgia Dome after Oakland's bye week.
Their records are worlds apart. Oakland has just one win to three losses, and Atlanta is a perfect 5-0. But Atlanta's had to fight for its last two wins, and Oakland has had a lot of time to pick apart game film.
On the surface, this matchup looks like a contest of two poor run defenses against two running backs—Darren McFadden for Oakland and Michael Turner for Atlanta—that haven't hit their grove yet.