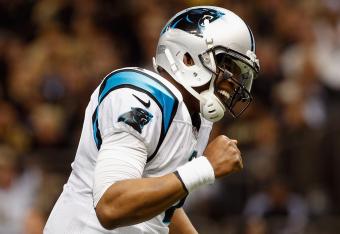 Chris Graythen/Getty Images
The hype and expectations heading into the 2012 season were amazing after Carolina Panthers quarterback Cam Newton took his own pen to the NFL record book during his rookie season. Since his sophomore campaign produced fewer passing yards, touchdowns, and a lower completion percentage, it's safe to say confidence won't be quite so high heading into 2013.
Think again.
Carolina's fanbase—and opposing NFL teams—should expect Newton to explode in 2013.
Looking at Newton's entire season, either in 2011 or 2012, would be a mistake. Sure, there's more data to look at and a much larger body of work. But looking at the full 16-game schedule masks the improvements Newton made in the second half of 2012. And those improvements were absolutely huge.
The game started to slow down for Newton in late November. The Charlotte Observer reported that after a season and a half of infrequent opportunities to call or change plays at the line of scrimmage, Newton was given the green light to read defenses and adjust if needed.