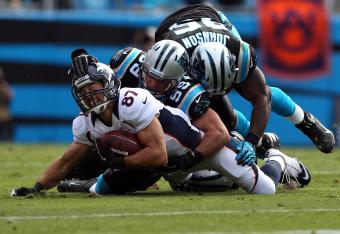 Streeter Lecka/Getty Images
Although the Carolina Panthers have seven losses through nine game thus far, the 36-14 drubbing the team took at the hands of the Denver Broncos was only the second time this season the Panthers lost by double digits.
That's how head coach Ron Rivera sold the loss at his postgame press conference (h/t Panthers.com).
"This is tough," said Rivera. "This is really only the second time we've lost a game like this this year. We've played hard enough and given ourselves a chance down the stretch to win football games. To have one of these, especially after coming off the Washington win, that's tough. It's a very tough pill to swallow."
Carolina's two big losses have come against Denver Sunday and the New York Giants in Week 3. Those two losses were by an average 25.5 points. The Panthers' other five losses—all by less than a touchdown—have been by an average of 3.6 points.