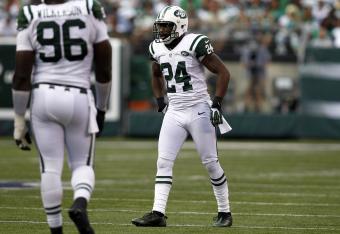 Jeff Zelevansky/Getty Images
New York Jets cornerback Darrelle Revis is definitely a better option than any player currently on the Atlanta Falcons' roster, or any player who will become available on the free-agent market next week. But the Falcons can't afford to trade for Revis, and it only has a little to do with money.
Manish Mehta of the New York Daily News reported that the Falcons are one of "two to three legitimate buyers" interested in acquiring Revis from the Jets.
While a blockbuster move would fit into general manager Thomas Dimitroff's modus operandi for pulling off at least one huge deal per offseason—Tony Gonzalez in 2009, Dunta Robinson in 2010, the draft-pick trade to grab Julio Jones in 2011 and Asante Samuel in 2012—trading for Revis would hurt in too many other areas to be a sound move.
The first issue is that the Jets are likely to ask for a first-round draft pick as part of the package to obtain Revis, possibly two first-round picks. The Falcons have seven tradable draft picks in 2013, including their first-rounder at No. 30. But the team has many needs to fill.