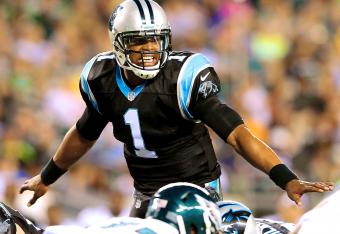 Carolina Panthers quarterback Cam Newton played arguably the most complete game of his 37-game career in Sunday's 35-10 victory over the Minnesota Vikings.
His 143.4 quarterback rating was the highest of his career. He'd only bested his 76.9 percent completion rating once before, and combining his legs and arm for four touchdowns was something he'd only done four times prior (twice with three touchdown passes and one rushing score, once with three rushing scores and one through the air and once with two touchdowns from both the ground game and the Panthers' passing attack).
The 2010 Heisman Trophy winner and first overall pick in the 2011 NFL draft hasn't enjoyed success like this often. For every game like Sunday's where Newton lit up scoreboards with his electrifying play, there were at least as many games where Newton missed the mark, both figuratively and literally.
Newton has been involved in 14 games where he posted a completion rate above 60, and 21 where he was below that standard. Along with his five games with four scores, he's posted three games with a combination of at least four miscues (interceptions and fumbles combined).