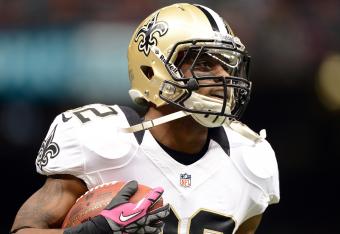 Harry How/Getty Images
The New Orleans Saints announced Tuesday that they had released tight end David Thomas and cornerback Johnny Patrick. The move created $2.219 million in cap space for the team to work with, according to ESPN, and was another step for the Saints to get to where they need to be financially.
Linebacker Curtis Lofton restructured his contract on Feb. 15, according to the Times-Picayune, and was able to save the Saints $4 million towards the salary cap. The Times-Picayune also reported that New Orleans will ask linebacker Jonathan Vilma and defensive end Will Smith to restructure as well.
After the transaction cutting Thomas and Patrick, New Orleans is still just over $15.5 million over the 2013 salary-cap figure. More cuts and restructuring is sure to come.