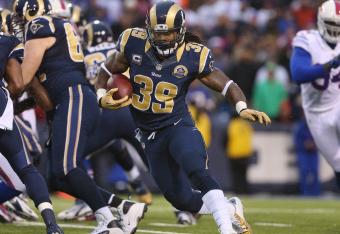 Tom Szczerbowski/Getty Images
Running back Steven Jackson to the Atlanta Falcons is all the rage over the last 24 hours since Jim Thomas of the St. Louis Post-Dispatch reported that the Rams' career rushing leader would void the final year of his contract on March 12.
Why not? This move looks great for the Falcons.
Jackson averaged 4.1 yards per carry and caught 38 passes out of the backfield for the Rams last year, and over the last eight seasons in St. Louis he gained just under 1,183 yards and caught 48.5 passes per season on average.
In the Atlanta offense that puts more weight now on versatility than power running, Jackson's ability to hit holes, power through and catch passes makes him a much more valuable option that current running back Michael Turner, who is rumored to be on his way out the door in Atlanta.