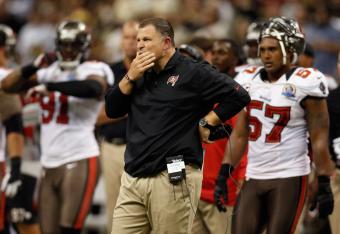 Chris Graythen/Getty Images
Of the four NFC South teams, the Tampa Bay Buccaneers are the only squad that entered the 2012 season with little or no expectations of success.
The Atlanta Falcons and New Orleans Saints were both the bullies of the division, expected to be habitually strong. The Carolina Panthers were looked at as a team on the rise, on the cusp of doing enough for a postseason berth.
Tampa Bay cleaned house in the offseason. The Buccaneers sent head coach Raheem Morris packing and started fresh with Greg Schiano and his new staff.
There weren't any expectations of success for the 2012 Buccaneers, no delusions of grandeur. But the Buccaneers started the season with a divisional win and an inch of hope crept in.