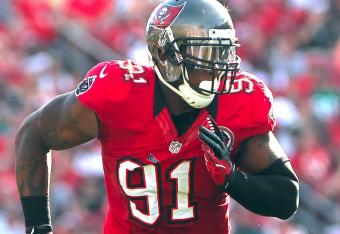 What were you thinking, Da'Quan Bowers? Or, more to the point, why weren't you thinking?
The Tampa Bay Buccaneers defensive end was arrested at LaGuardia Airport Monday after it was discovered that he was illegally carrying a loaded .40 caliber handgun, according to NBC News 4 New York.
Bowers was about to board a plane from New York to Raleigh, N.C., when he alerted ticket counter employees to the gun in his carry-on bag, according to USA Today's Mike Garafolo.
This brings up another question: How did Bowers get to New York with the gun in the first place? The Tampa Bay Times reported that Bowers flew from North Carolina to New York with the gun unknowingly stowed in his bag. He had hoped by alerting the ticketing employees that he would be allowed to return to North Carolina in the same fashion.