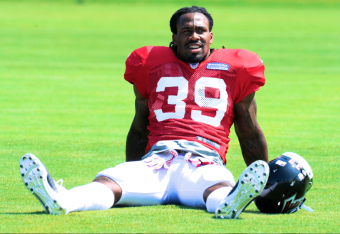 New Atlanta Falcons running back Steven Jackson has a lot in common with tight end Tony Gonzalez, and it has more to do than just sharing the same zip code.
Jackson is hoping to find that the Fountain of Youth Gonzalez seems to have found in Atlanta still has some magical powers left.
At the age of 33, Gonzalez was traded from the cellar-dwelling Kansas City Chiefs to the Falcons, a franchise on the rise with a new general manager, head coach and quarterback the season prior. Gonzalez's numbers didn't fall off as age set in. From age 33 to 36 the tight end flourished.
Jackson turned 30 on July 22 and landed in Atlanta after spending nine non-winning seasons in St. Louis with the Rams. Except for one season—his rookie campaign in 2004—he was the Rams' bell cow, averaging just fewer than 283 carries and 1,183 yards rushing per season since 2005.